Are you ready for the next revolution to track and analyze your training?
The market has evolved from chest bands that show pulses, to activity bracelets, and from there to smart watches, and now ECG sensors.
Much more than heart rate
Polar ECG Analysis is an application that allows you to record electrocardiograms and make statistical measurements of the intervals of the ECG waves. The app is compatible with the existing Polar H10® wearable device.
Could be useful for the early detection of deterioration or detection of heart diseases.
Statistical measurements of ECG wave intervals

Instant reports

Long term datalogger: standard format file .EDF

Event detection

Heart Rate Variability (HRV)

Heart Rate Effort Index (HREI)

Heart Rate Recovery Index (HRRI)

T wave mesurements

Medical App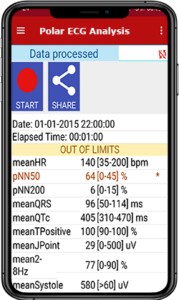 Important Notice: The use of the app and site is not intended to be a substitute for professional medical advice, diagnose, treat, or prevent any disease or health condition. If you are concerned about your health, consult a medical specialist immediately. THE APP AND WEB SITE DO NOT OFFER MEDICAL ADVICE. The results are statistical and could be wrong.